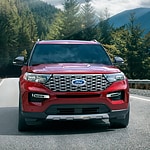 The Ford Explorer is one of the automobile industry's best-selling vehicles. This popular full-size SUV has it all from advanced innovations to exceptional comfort features. When it comes to actual trim levels, consumers will have more than enough options to match their personal style. Check out the SUV's design features below.
The Ford Explorer is classically cut from top to bottom and from front to rear. This flawless design hosts some of the smoothest contours along its door panels. The vehicle's hood is lightly sculpted, and there are sweeping lines that tends to flow without any interference. The Explorer sits well balanced, but it still possesses aggressive aerodynamics. It would be hard trying to find another full-size SUV that possesses better aesthetics than this. Consumers can also choose from a variety of exterior paints.
Would you like to test drive this beast? If so, then head over to our location today.