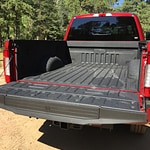 When you want a truck that lasts, then you have to look at the popular Ford Super Duty. This heavy-duty has been tested to the extreme. Here's a look at why the Ford Super Duty is a top durability choice.
The Ford Super Duty has been tested for over 20 million miles. From the mountains to the desert, the testers at Ford has taken the Ford Super Duty everywhere to ensure that it will last. That means you get great value for your vehicle. To ensure that your Ford Super Duty lasts any time of the year, this truck has been tested under incredible weather conditions. In fact, the testers at Ford have driven the Super Duty in minus 20 degrees weather and 120 degrees weather.
Get more from your next heavy-duty truck. Take the Ford Super Duty for a test drive at Bob Thomas Ford West. Get your deal today.